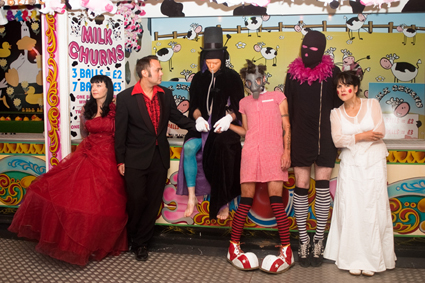 Sat 13 Feb 2016
The Lovers' Circus
With: The Turbans + Greenness + Gramski
The Basement, Brighton

Fri 25 Mar 2016
Get On With It! Punk Festival
With: RDF + Interrobang + Ratbag
Prince Albert, Brighton


Sign up here to join our mailing list and receive sporadic gig updates.


All Aboard!
Our show last month at the Bring Back British Rail fundraiser has been reviewed in Brighton Source (read it here). Turns out we helped raise £700 for the group, which is surely enough to renationalise a few metres of track at least. There's some great pics from the gig too.
13 January 2016

Training Montage
We're dead chuffed to be supporting John Hegley at a benefit gig for Bring Back British Rail, a campaign seeking to bring the railways back into public ownership. Blyth Power are also playing, being trainspotters.
18 November 2015

Farewell, Stranger
Apologies! We were meant to be playing a couple of festivals this month, but we've had to cancel due to a band member going AWOL in Kent. The last time we saw Mr Pump he was investigating what looked to be a small entrance underneath a felled oak tree. The Lovely Brothers have now found a replacement and are carrying on without him.
2 September 2015

Beach Pumps
Mr Pump, everyone's plastic-faced freak, has somehow got himself a solo gig on Ramsgate Beach on Aug 23. The Lovely Brothers' keyboard player, who feeds from his an abdomen-mounted 'shrift sack' via a plastic tube, is taking part in a festival down there, but we have yet to track down the person responsible for booking him.
6 July 2015

Goodbye To The Beard
We're saddened to hear that fellow absurdist satrical cabaret punk noisenik Brighton band, Anal Beard, are calling it day. On second thoughts it's probably about time. Having played numerous shows with them over the years we're pleased to announce that The Lovely Brothers will be joining them for their farewell show in September. Messy it will be.
28 June 2015

Older News...