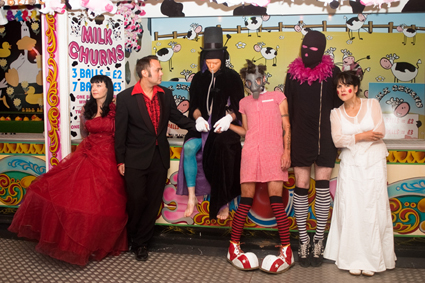 Fri 17 May 2019
The Lovely Brothers + Honeytree
The Brunswick, Hove

Sat 27 July 2019
Hotrod Hector's Memorial Day
Fox & Hounds, Norwich

23-26 Aug 2019
Blyth Power Ashes Festival 2019
Hunters Inn, Tewksbury

Fri 20 Dec 2019
Xmas Austerity Downer #3
Prince Albert, Brighton


Sign up here to join our mailing list and receive sporadic gig updates.

An Awful Sound
What's that noise? Ah, the cogs of inanity have started to whir once more! The Lovely Brothers are breaking cover with a bunch of new live dates announced today. It probably won't last, so catch us while you can!
28 April 2019

Aces High
Finally the national press has starting paying attention to The Lovely Brothers! Admittedly, our latest coverage is in a model aircraft magazine, but it's a start...
12 Jan 2017

Topps of the Pops
Our erstwhile keyboard player, Mr Pump, who was last seen chasing squirrels near the M1, has been spotted in a trailer for a short film entitled Mr Topps. He's only in it for a split, harrowing second, but apparently the plastic-faced freak will have slightly bigger role in the short film, which is set to appear as a DVD extra on the sequel to the Troma classic Class Of Nuke 'Em High.
04 April 2016

All Aboard!
Our show last month at the Bring Back British Rail fundraiser has been reviewed in Brighton Source (read it here). Turns out we helped raise £700 for the group, which is surely enough to renationalise a few metres of track at least. There's some great pics from the gig too.
13 January 2016

Training Montage
We're dead chuffed to be supporting John Hegley at a benefit gig for Bring Back British Rail, a campaign seeking to bring the railways back into public ownership. Blyth Power are also playing, being trainspotters.
18 November 2015

Farewell, Stranger
Apologies! We were meant to be playing a couple of festivals this month, but we've had to cancel due to a band member going AWOL in Kent. The last time we saw Mr Pump he was investigating what looked to be a small entrance underneath a felled oak tree. The Lovely Brothers have now found a replacement and are carrying on without him.
2 September 2015

Older News...